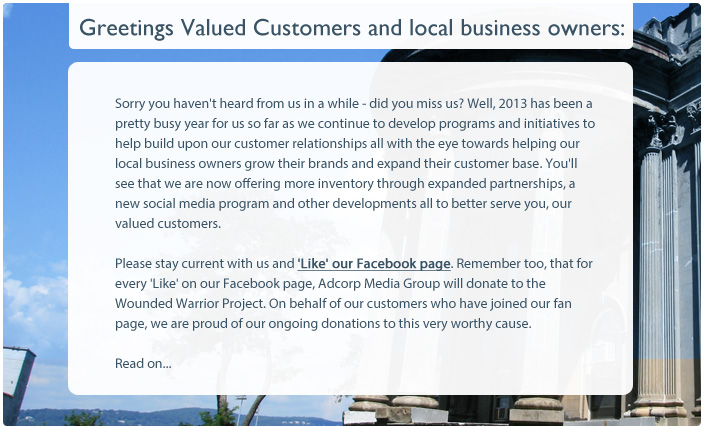 In an effort to continue to offer our customers the opportunity to expand their marketing and advertising programs to their local prospects, as well as bringing new customers into the Adcorp family we have expanded our partnerships to new chains and expanded our product offerings with our current partners:
| | |
| --- | --- |
| | Adcorp is proud to announce the expansion of its partnership with Village Shoprite (NJ, PA, MD) to include the Shopping Cart and Bench programs! |
| | Bottino Shoprite (NJ) now using Adcorp for shopping cart program! |
| | New Shoprite opened in Colonie, NY using Adcorp for all our supermarket media - carts, Welcome Center, Bench and Market Information Centers. |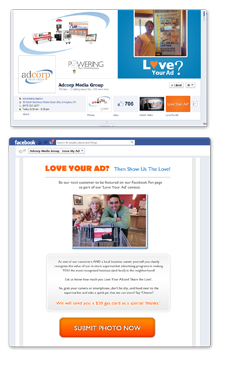 We've been having some fun with social media. We recently launched our 'Share the Love' Facebook promotion. It's fun, easy and it's a great way to give our valued customers some additional 'face time' on our Fanpage (plus, there's another incentive...read on). Here's how it works. Whether your ad has been in the store, or you just received an email notification that your ad was recently installed, head over to your store and take a photo of yourself next to your ad. Go to our Facebook page and 'Like' our page, if you have not already, then upload the photo via the 'Love Your Ad?' link or email it to This e-mail address is being protected from spambots. You need JavaScript enabled to view it and it will be on display on our Fan page.
We'll even send you a $25 gas card as a 'thank you for participating'.
Click Here to check it out!

We are so proud and pleased that several of our partner stores that suffered tremendous losses due to Superstorm Sandy came back strong, opening new/renovated stores in the same location. Dedicated to continuing to serve their communities, these stores were able to rise up and reopen with beautiful new, state-of-the-art locations providing their local shoppers with the same goods and services they have come to expect. Congratulations:
-A&P, Ortley Beach, NJ
-Shoprite, Hoboken, NJ
-Waldbaum's, Belle Harbor, NY
-Key Food, Brooklyn, NY


We don't like to brag but...A+ actually is something to brag about as we work as hard as possible to keep our customers happy! Adcorp Media Group achieved an A+ rating from BBB's Better Business Review. The review includes background information, consumer experience, BBB Accreditation status, BBB Rating, customer reviews, complaints, complaint resolutions and business overview.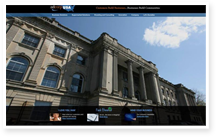 In May we launched our new website: www.AdcorpUSA.com. We felt it was time to develop and produce AdcorpUSA.com to help our customers and prospects better understand the depth and breadth of our company, and the mix of services we offer - packaged all in one place under the umbrella of serving the local community, as well as our supermarket partners. Special thanks to Shoprite Supermarkets Inc., for allowing us to film at their beautiful New Rochelle store, Anthony Marciano of C21 Marciano, our "talent," and to Mick, Ed, & Russ, of M360 Entertainment...great guys and real professional.
Click here to view
our new branding site:
www.AdcorpUSA.com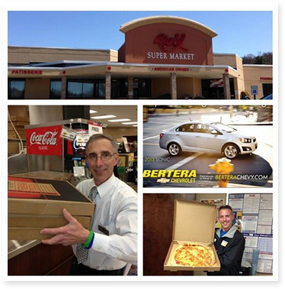 One of our local advertiser's and their local Big Y enjoyed a lunch date. Fostering partnerships within the community, Bertera Chevrolet Service Department, local business advertiser in Palmer, MA enjoys 'Pizza Thursday' thanks to neighboring Big Y World Class Market Grazie Big Y. Everybody mangia!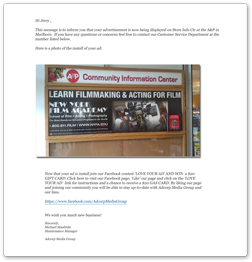 We're not sure if you noticed but, in an effort to provide better customer service, our new Installation Email notification that you receive when your ad is installed now includes a photo of your ad. This will verify installation and give you a preview as to what it looks like in-store.

Our customer's words are the most powerful. We always welcome customer feedback as a way to better understand how we are meeting customer expectations and to continue to improve our efforts and raise the bar on our customer service. If you would like to share your recent experience with us, please click on the link below and let us know 'how we're doin''.
Click here
and share your thoughts and we will post your ad on our Testimonial and Facebook pages for added exposure.

Last but not least we are celebrating our 7th 'birthday' this year! Lucky 7 as they say, and we have been very lucky. We are counting our blessings over the last 7 years- and there are many...
We've expanded our fulltime staff and as a result we moved our headquarters to larger office space in beautiful Irvington, NY.
Adcorp Latino- our division that serves the Latino community in specific locations in Florida, Southern California, Arizona and Nevada - celebrates its 1 year anniversary providing local advertising for over 200 customers in 12 large Hispanic supermarket chains.
In order to serve our customers and help them reach their local audience we continue to expand our supermarket partnerships. Adcorp Media Group now offers inventory in over 1100 supermarkets and partners with over 68 chains in 15 states.
And last, but by no means least, our customer base continues to grow and without our loyal customers we could not be counting our blessings as we are now.
Help us celebrate our birthday!
'Like' our page
and send us your birthday greeting!
On behalf of our Adcorp Media Group staff, we thank our loyal customers for their continued business and wish you all a fun, prosperous summer.